NOW OPEN WED-SAT, 11 AM-4 PM
Barbara Clevenger Johnson Gallery
Morton's Barbara Clevenger Johnson Gallery proudly displays the wealth of creativity and talent found among our local artists. Discover a diverse collection of artwork, from paintings and jewelry to pottery and sculpture.  The gallery is open Wednesday-Saturday, 11 a.m. – 4 p.m.
Nestled in the Cascade foothills of Morton, Washington, the gallery first opened its doors May 1, 2007, as part of the newly renovated Roxy Theater. This exciting endeavor was made possible through the vision and hard work of the Fire Mountain Arts Council and many generous donors, including benefactor Ladd Johnson in memory of his wife, Barbara Clevenger Johnson.
Are you interested in displaying your artwork in the gallery? Please contact the Gallery via the e-mail or phone number listed below. We welcome new area artists to feature in our gallery!
Get to Know Our Featured Artist, Marci McBride Ericksen!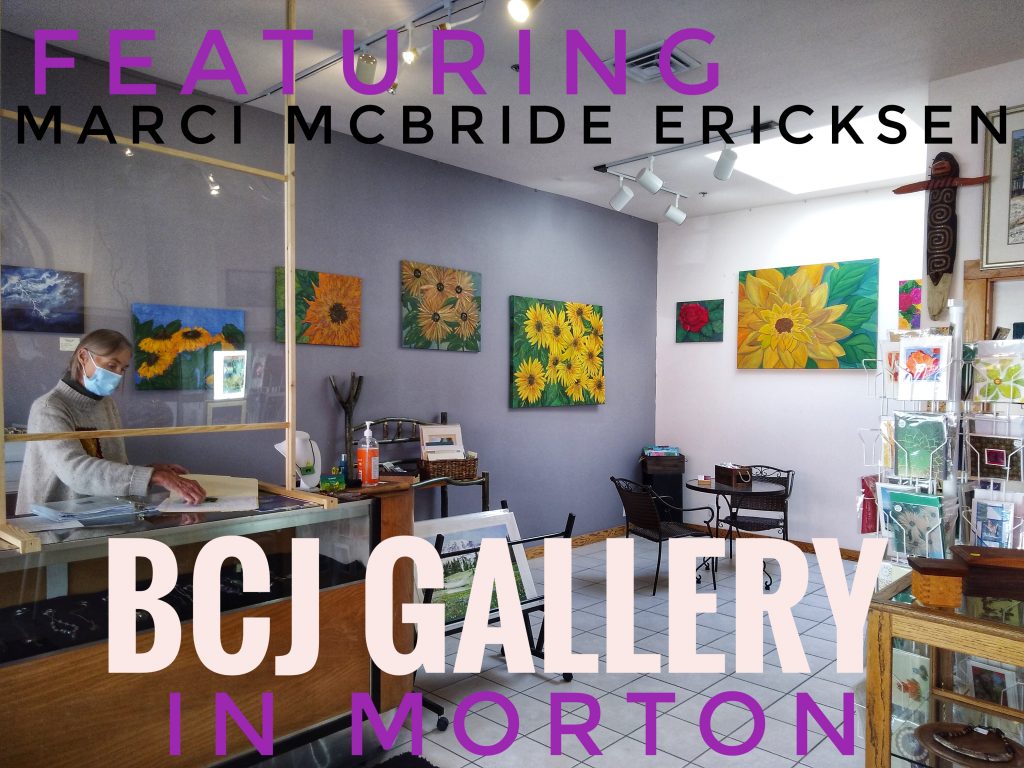 Hello! My name is Marci. I lived in Morton from 1996-2012, and with my husband and four kids run a small farm and volunteered with the Fire Mountain Arts Council. My husband Carl even ended up serving as FMAC president from 2008-2012. We ended up moving away for my husband's job, but will keep the friends we made forever.
I've always doodled and painted, but never really focused on it until I had four back surgeries in one year and ended up with a spinal cord injury in 2016. After spiraling into depression, my loving husband encouraged me to work on painting. He was an avid gardener and would constantly bring me flowers from his garden to inspire me. When I paint and draw, I go into a very happy place, and I have encouraged my friends and family to tap into their inner artist to cope with all the stresses that are circling around us daily. After my husband and friend Carl passed away a year and a half ago, I moved into a small cottage in Boise with my dog and three cats, helping homeschool my grandchildren one to two days a week, and I'm enjoying opening their lives to the many different styles of art and introducing them to artist through books, videos, and museums. For the rest of my time I focus on painting and gardening.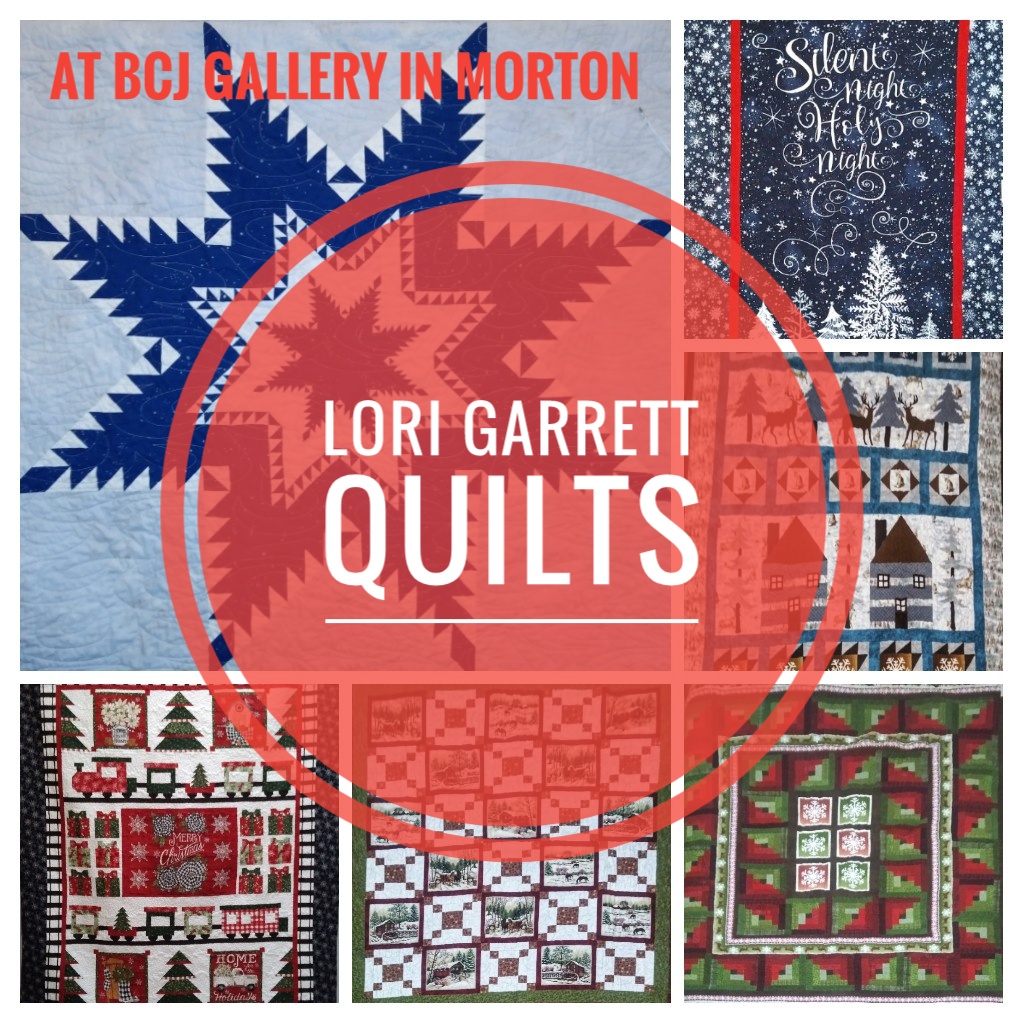 The BCJ Gallery is now showcasing quilts by local quiltter, Lori Garrett!  Last year's quilts sold out so visit soon for a selection of her beautiiful work, including Christmas themed quilts. All sizes and sweet old-fashioned designs.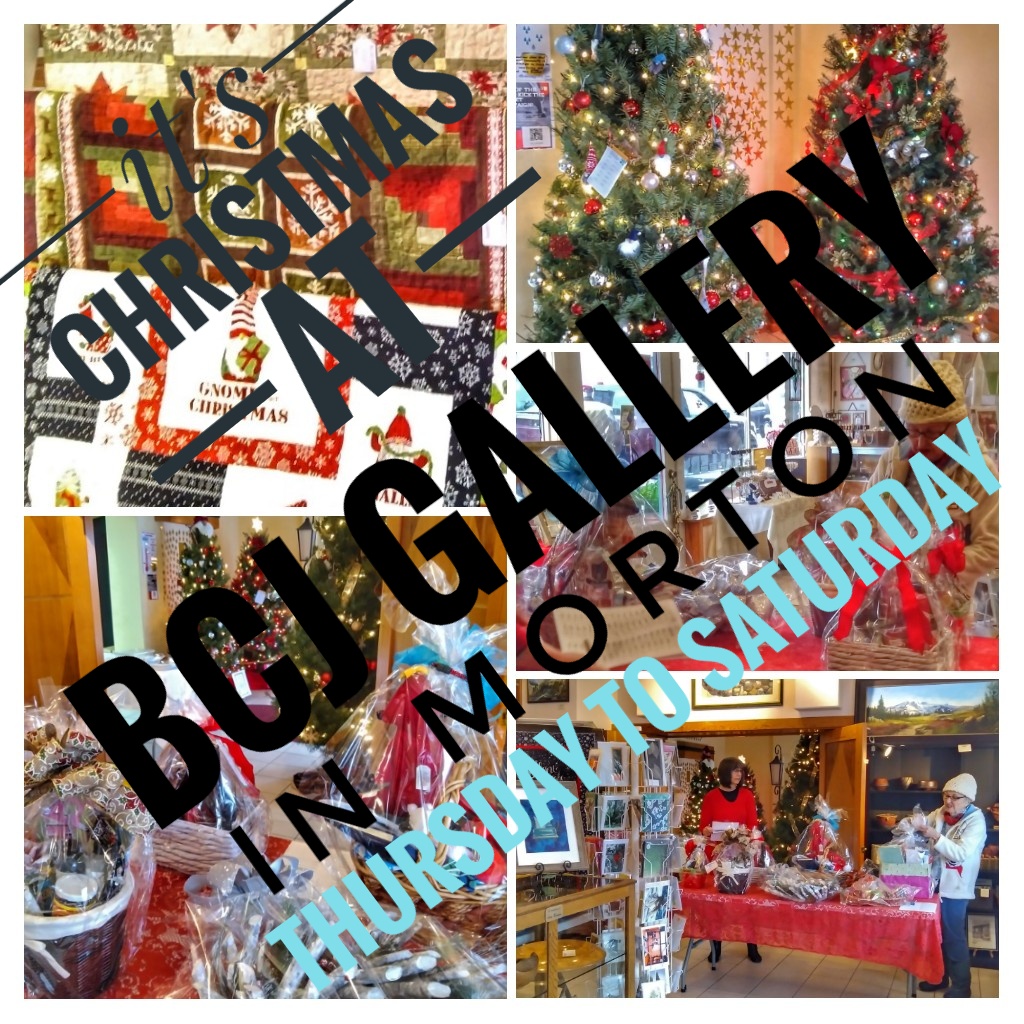 Visit the Gallery  Thursday, December 9th through Saturday, December 11th to see local crafters and artists' wares and do a little holiday shopping. We are featuring Christmas-themed quilts made by Lori Garrett.
About Barbara Clevenger Johnson
Barbara Clevenger was born May 6, 1932 and lived the first 18 years of her life in Mineral, Washington. Shortly after graduating as valedictorian from Morton High School in 1950, she married her high school sweetheart, Ladd Johnson. The two moved to Chico, California, in 1951 to attend college. Completing first a bachelor's degree in liberal arts and then a master of arts in education degree from Chico State College, Barbara eventually went on to earn a doctorate at UCLA in 1970.
A born teacher, Barbara touched the lives of countless students and instructors in the many classrooms she presided over, from her first-grade students at Chico Elementary to the education students at Chico State where she taught from 1960 to 1995. During her tenure at CSU, Barbara also served as Chair of the Education Department, Director of Credentials and Student Teaching, Director of Liberal Studies, and Director of the Intercultural Center.
Although Barbara did not begin painting until after she retired, her artistic talent was soon as obvious as her teaching skills had been. Focusing on scenes from life and nature, her works capture the simple beauty and joy that she saw everywhere in life.
The gallery is located next to the Roxy Theater in downtown Morton and is often open during live Roxy Theater performances. Plan to come by before your next visit to the theater. Regular hours are Wednesday through Saturday, 11 a.m. to 4 p.m. Group tours of the Gallery and Roxy Theater are always welcomed. Please call to make arrangements. The gallery also provides information to tourists in collaboration with the Morton Visitors Center near the historic railroad depot.